Tankless Electric Water Heaters

AquaPower
®
AQC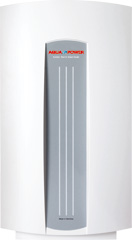 Click for full-size images
Point-of-Use Tankless Electric Water Heater
Features:
» Up to 50% less power consumption than tank-type heaters
» Hot water instantly
» Exclusive built-in scald guard thermostat
» Sleek design saves space
» Lower installation costs compared to tank-type heaters
» Available in many different kilowatt sizes
» Available for 120 V, 208 V, 240 V and 277 V
» Virtually silent operation
» Exclusive copper-clad heating element

AquaPower
®
AQC tankless electric water heaters are designed for efficiency, durability, and reliability. An AQC unit is typically used to supply a single hand washing sink or kitchen sink with warm or hot water. By putting the water heater right next to the sink, you get instant hot water and at the same time avoid wasting water as you wait for hot water to arrive from a distant tank.
Hot water where you need it |
AquaPower AQC tankless water heaters are designed for installation at the point-of-use. They heat water instantaneously as it flows through the unit. standby losses are completely eliminated.
Ultra-reliable performance |
The heating elements are electronically controlled by a silent flow switch and by an exclusive scald-guard thermostat, which keeps the water temperature within safe limits at all times. In addition, the AQC water heaters are equipped with a safety high-limit with manual reset. The rugged all copper design ensures many years of reliable service.
Low flow

=

big savings |
The models AQC 3-1, AQC 3-2 and AQC 4-2 are shipped with 0.5 GPM pressure compensating flow reducer / aerators that fit on most faucets. Flow controls and faucet aerators are highly recommended in conjunction with tankless water heaters.

Resources
Sizing Guide
Technical Data
Installation Manual
Warranty

5 years against leakage / 1 year against defects in workmanship & materials. See warranty for details.

The AQC series is tested and certified by WQA
against NSF/ANSI 372 for lead free compliance.

The AQC series is tested by ETL to conform to
ANSI/UL 499 and CAN/CSA C 22.2 No.64 standards
for use in the U.S. and Canada.