Tankless Electric Water Heaters

AquaPower
®
AQE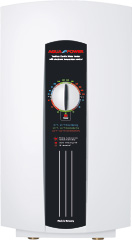 Click for full-size images
Multi- Point-of-Use / Whole House
Tankless Electric Water Heater
Features:
» Advanced microprocessor controls
» Code compliance made easy
» No scalding
» Simple plumbing system design
» Sleek design fits in anywhere
» Seismic-proof construction
» Superior, reliable performance
» Exclusive copper-clad heating element

AquaPower
®
AQE tankless electric water heaters are designed for maximum versatility. An AQE unit may be used to supply a single lav sink, multiple sinks, or in certain climates, low-flow showerheads. Cabins, small southern homes and tropical homes can use the AQE as a whole house unit, capable of supplying any of the major plumbing fixtures a household may have with all the hot water they need.
Powerful point-of-use |
The AQE is a powerful, flexible, point-of-use water heating solution. The mighty AQE 12 offers high 12 kW output, in an affordable, compact package. Great for that kitchen sink at the end of a long pipe run, or for multiple low-flow sinks in a commercial application.
Flexibility and simplicity |
The AQE 8/10 is actually two models in one - switchable between 7.2 and 9.6 kilowatts via a jumper during installation. One model meets a larger variety of demands than ever before. Top that off with AquaPower's superior reliability and purposeful design, and you'll see why installing an AQE is a smart decision.
Control temperature simply by setting a dial |
Set the knob on the front cover and enjoy water temperatures between 86°F (30°C), and 140°F (60°C). Change the desired temperature at anytime. No purchase of a remote selector control is necessary. Advanced microprocessor technology ensures that the water temperature never deviates from the set point. The 100% accuracy of the water temperature is guaranteed by sophisticated electronics. No need to worry about mixing valves that go out of adjustment and wear out.
Simple plumbing system design |
There is no need for a T & P valve, drain or mixing valve. The design of the hot water plumbing system gets very simple and straight forward due to the advances introduced with the AQE.
Sleek design fits in anywhere |
Due to its small dimensions and attractive housing the AQE can be left unconcealed in many applications.
Superior, reliable performance |
The AQE has two temperature sensors and one flow sensor which feed their readings into the unit's proprietary microprocessor control. Three heating elements are engaged in stages, achieving the temperature you desire. The AQE continually monitors the water temperature it produces. AQE tankless electric water heaters deliver instant hot water.
Resources
Sizing Guide
Technical Data
Installation Manual
Warranty

5 years against leakage / 1 year against defects in workmanship & materials. See warranty for details.

The AQE series is tested and certified by WQA
against NSF/ANSI 372 for lead free compliance.

The AQE series is tested by ETL to conform to
ANSI/UL 499 and CAN/CSA C 22.2 No.64 standards
for use in the U.S. and Canada.